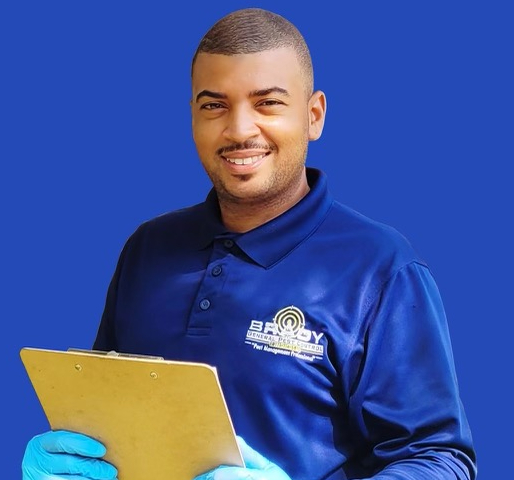 We've had the good fortune of connecting with Parris Christopher Brady and we've shared our conversation below.
Hi Parris Christopher, what is the most important factor behind your success?
There are several important factors that go into making/building a successful business brand. One of the most important factors behind our success is establishing relationships. Developing strong relationships is the meat and potato behind our success. Strong relationships are built by having integrity, being open and honest, communicating effectively and always respecting and appreciating others. At a young age, I was taught, "people may not remember exactly what you said to them, but they will always remember how you made them feel."  Brady Pest Control will always make our customers feel special and appreciated.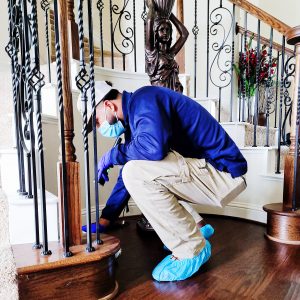 Can you give our readers an introduction to your business? Maybe you can share a bit about what you do and what sets you apart from others?
Brady Pest Control (BPC) is a family-owned (2nd generation) pest control business. We specialize in several different categories of pest control including general pests, insects, termites, mosquitos, rodents and wasps. We take pride in our top-tier pest control services and providing world class customer service. We offer services to residential and commercial properties within the Dallas/Fort Worth Metroplex area. Brady Pest Control was founded independently in 2018. Built from the ground up, we have established our foundation by staying consistent in everything we do. Our leadership and core values have led us to stand out and be apart from others. Our core values are Integrity, Service, Quality, Efficiency, Safety and Teamwork. Hiring outstanding employees who align with our company's core values is a vital key to our growth and success. We are most proud of our well-known reputation and the fantastic relationships we've built throughout the years with our customers!
We understand customers are both internal and external. Meaning our internal customers being our technicians/employees and the external customers, our clients we service. Brady pest control works really hard to ensure both internal and external customers are very well taken care of and treated with the utmost respect. Our customers are at the forefront of EVERYTHING we do!Creating a successful business is hard work, but maintaining and keeping clients is even harder. Having correct systems in place is an essential key to a rewarding business. Making certain all concerns are addressed and resolved quickly, while maintaining satisfied and happy customers. It has not been an easy journey, however seeing the joy in our clients faces and pest free homes/establishments, is what makes it all worth it. We continuously exceed client expectations by staying prepared, innovative and always being knowledgeable in our professional industry.
5 considering factors why Brady Pest Control exceeds customer expectations:
Response time – Brady Pest Control is available for you to email, message, or chat about your pest control needs/services 24/7. You can usually expect to schedule services within 24-48 hours of calling us, sometimes even same day!
Consistency – From your initial pest control treatment forward, we use only the most effective and safe products and equipment. We 100% guarantee your satisfaction every time!
Complimentary Re-treats – Pests returning to your location? Contact us anytime between regularly scheduled services and we will gladly come back out to re-treat your location at no additional costs to you.
Pest Control Bundles/Add Ons – Our pest control options are completely customizable for your personal pest control needs. We will continue to protect your locations free from spiders, fleas, termites, ants, wasps, moles, mosquitos, rodents and much more.
Customer Service -We LOVE our customers. We truly understand the importance of customer priority and satisfaction. We know without them; we would not be in business! For years, Brady Pest Control comes highly recommended by clients, neighbors, co-worker's, family members and friends! Contact us today to learn why!
I learned this acronym when I was 7 years old. This is something my mother and I created. I still use it in my everyday life.
(PEDS-HN)
P=Perseverance and Prayers
E=Excellence
D=Determination
S=Study Hard
H=Hardworking
N=Never Give up
Any places to eat or things to do that you can share with our readers? If they have a friend visiting town, what are some spots they could take them to?
A fun week long trip for me would incorporate my family, lots of food, music, sports, reading and outdoor activities. My itinerary would look like this:
Restaurants to visit: Chapps Burgers, Pluckers Wings, Texas Road House, Eddie V's, BFF Grill and Pappadeaux.
Exciting places to experience: AT&T Stadium, Texas Live, Exploring Downtown Dallas, American Airlines Center, Boating and Water sports at Joe Pool Lake, Food Events, Visiting parks and outdoor activities (bike riding, hiking, roller blading)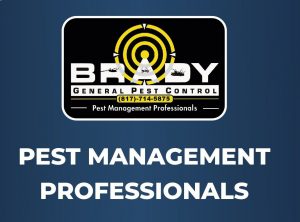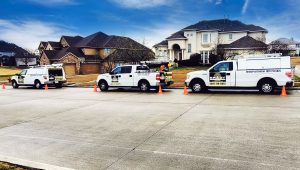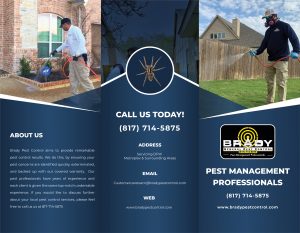 The Shoutout series is all about recognizing that our success and where we are in life is at least somewhat thanks to the efforts, support, mentorship, love and encouragement of others. So is there someone that you want to dedicate your shoutout to?
Hands down, I would not be here without the love, support and faith of God almighty. I give the highest praises to my Lord and Savior. My family has always been a HUGE influence in everything I do. I want to thank them for the love, patience and support they have given me over all these years. Very BIG special shout out to my woman and my two daughters; they are my reasons I get up in the morning! I love you girls! I also want to thank everyone at Brady Pest Control for your time, dedication, hard work and professionalism that you put into this company. Hiring outstanding employees who align with our company's core-values is vital to our growth and success. My Mom and Grandma have been my biggest cheerleaders since I was a baby! Thanks mom and granny! Shout out to you guys at "Voyage Dallas, shoutout DFW" for opening this platform up to showcase my business! Also, thank you to my family, friends, plus each one of our dearest clients for always supporting us and being the best part of Brady Pest Control! Thank you so much!
To See Official "SHOUTOUT DFW VOYAGE DALLAS" Interview Article: Click Here!