Effective & Affordable Pest Control Services Across Grand Prairie, Texas & Surrounding Areas
Brady Pest Control offers outstanding pest control services for both residential and commercial property owners across the DFW area and Tarrant County. Based in Grand Prairie, Texas, our team of professional pest control experts and exterminators have been the go-to-choice for ethical and safe procedures and services for years. Specializing in rodent control, cockroach infestations, termites, and bug control solutions, we effectively resolve your pest concerns with relative ease and guarantee results every single time.
Common Pests We Cater To Residential & Commercial Pest Control Services
Grand Prairie is no stranger to bug and rodent infestation. Much like other areas around Dallas, Fort Worth, and Tarrant County, it has its fair share of pests; from cockroaches to scorpions, fire ants to spider nests, it's not that uncommon to hear a family or business encounter such dilemmas every now and again. Conveniently, Brady Pest Control delivers swift and cost-effective pest control solutions for various properties around our areas of operation.
Check out the various pests we deal with.
Spiders & Wasps
Spiders and wasps are some of the most common pests encountered by both residential and commercial property owners. It's no secret their bites and stings are not something to laugh about, and the health concerns that come after being bitten or stung is nothing short of concerning. Let our team of pest control experts handle these safely so you don't have to.
Carpenter Ants
While carpenter ants are not the type to go for us humans directly, they do pose a serious threat to one's property. Since their preferred food is wood, they go ahead and nibble and drill away at one's home and or establishment left unchecked, carpenter ants lead to heavy damages to one's home and leave you with a mountain of repair bills.
Termites
Termites are another pest similar to that of carpenter ants. They tend to bore on wood for food and shelter. In fact, they are considered the most troubling causes of damage for houses across the US next to flooding and tornadoes. If left to their own devices, they will tear down a structure in no time. For property owners in Grand Prairie and other areas, leaving them can lead to irreparable damages.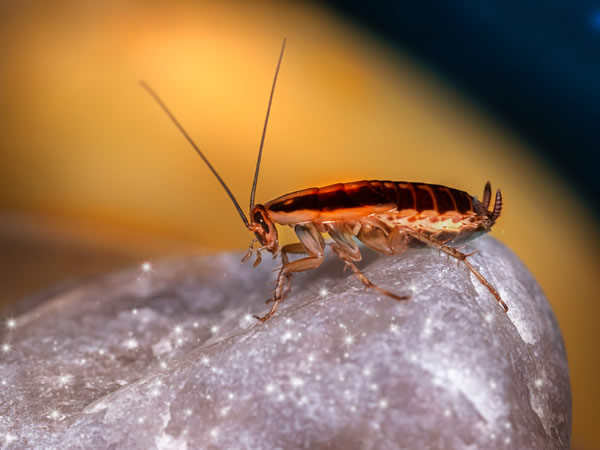 Cockroaches
This is absolutely a no-brainer for both residential and commercial property owners not only in Grand Prairie, but other areas in DFW, Tarrance, and everywhere else for that matter. Once you see a cockroach, there's bound to be more, and the last thing you want is to live among an intrusion of cockroaches. Let Brady Pest Control deal with these unwanted vermin effectively.
Scorpions
Believe it or not, scorpions are quite a common sight across Grand Prairie and other areas around dallas-Fort Worth and Tarrant County. and if you haven't already known, once you get stung by one ( particularly those small ones), your best bet for survival is to be rushed to the hospital as soon as possible. Brady Pest Control is well experienced in dealing with a wide variety of scorpions. The next time you see one scurrying across your property, get in touch with our team and will respond immediately.
Fleas and Ticks
Most of us are considered pet lovers. but with these furry friends come unwanted tests as well. Fleas and ticks are almost guaranteed sight if you own a pet or two. but it's not just around pets that these bugs are mostly found. Sometimes even properties without pets around the area are infested with these vermin. just are infested with these vermin just a small bite from these bugs just a small bite from these bugsIs enough to leave a nasty bite mark that's not only itchy, but potentially health threatening as well.
Beetles
While it's a common notion that beetles don't pose a threat, there are instances when beetles can indeed be a cause for concern. Some are known to hide among cracks within walls and ceilings, and when disturbed, emanate a foul odor than when inhaled can lead anywhere from mild allergies to difficulty breathing. The common lady bug might not be a threat, but those shiny ones should be dealt with immediately.
Crickets
Crickets don't usually attack people. Unlike scorpions, spiders, fleas, and even cockroaches, these insects are placid in nature. But while they do mind their own business, they have a knack for creating a distinct sound that can become deafening over time, especially when there's more than one around the property. The worst part, it's one of the most common problems Grand Prairie property owners face. Luckily, our team of pest control experts can handle these annoying pests effectively, leaving your home and or business quiet and serene.
Mosquitoes
Mosquitoes are a common carrier of malaria and dengue fever. In fact, these are some of the most common causes of death not only in Texas, but also in other warm and humid places in the world. These pests breed in stagnant water, but can also thrive in other places like cabinets as well. Don't brush these off as temporary, if you see more than a few mosquitoes, give Brady Pest control a call immediately and we'll take it from there.
Rats and Mice (Rodents)
Rats and mice are synonymous with disease. The mere correlations between them are so prevalent that property owners do NOT want a single rodent like these to be seen on their property lest they want to offend guests and put their loved one's lives in jeopardy. Get in touch with Brady Pest Control today. Our pest control experts have ethical and effective methods to trap and deal with these and other types of rodents with relative ease.
Exceptional Pest Control Services
Brady Pest Control refines time tested pest control services with ethical, safe, and scientifically proven methods when dealing with any of the above pests. But we do not limit ourselves to just the above mentioned. Our team of exterminators and pest control specialists also deal with snakes, bats, hornets, and specialized traps for other rodents as well. Our decades of combined experience ensures that our procedures are as effective as they can get. What that means for you, your family, and your business is safety and security. You need not worry about such creatures terrorizing your property in Grand Prairie and neighboring areas. With Brady Pest Control. We not only guarantee outstanding pest control services. We guarantee your peace of mind.
Effective & Affordable Pest Control Services Across Grand Prairie, Texas & Surrounding Areas
For more information about our pest control services, feel free to contact BRady Pest Control today. You can reach us at 817-714-5875. You can also head to our contact us page and fill out the form provided for your convenience. Do not let your health and wellbeing be jeopardized because of these unwanted pests. Let Brady Pest Control deal with the situation so you can focus on what's really important for you.
Take your time reviewing our pest control services. If you have any questions, please feel free to contact us at 817-714-5875
Brady Pest Control technicians are equipped with personal protective equipment (PPE) and are highly experienced in handling several different categories of pests. Our pest control services are available for both residential and commercial clients within Dallas Fort Worth and Tarrant County Texas.
Pest infestations are a common problem in residential and commercial properties that can damage them structurally or spread diseases. What can you do to make your property absolutely pest free? No need to worry, you can trust Brady Pest Control for top-notch pest control services. Our experienced experts are always available for emergency pest control services to make sure that your property is safe from all kinds of pest infestations, including rodents, insects, and mosquitoes. We offer environmental-friendly safe pest control services that work on pests without hurting the environment.